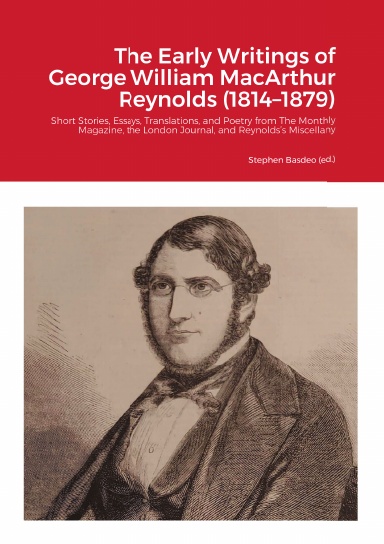 Unfortunately we Reynolds scholars are not as lucky as those who study some of the more famous nineteenth-century novelists like Dickens, Eliot, and Scott. We don't have access to decent reprints of Reynolds's works and we can't log on ebay or ABEbooks to get hold of a cheap Victorian hardback of one of his novels because they're rare and often very expensive.
I'm a collector of Reynolds's writings—I've been lucky enough to get hold of some originals of his novels, but it frustrated me that his early writings, which he wrote for the Monthly Magazine, and other miscellaneous items like Songs of Twilight and Errors of the Christian Religion Exposed (1831), were even rarer than his famous writings and impossible to get hold of.
However, some of these early writings have been scanned in and uploaded to databases such as Hathitrust, ProQuest British Periodicals, and Nineteenth-Century Collections Online (Although I should say at this point that some of these scans are of—ahem—varying quality).
The availability of these database sources is good for someone like me with institutional access to them but, as those who work in universities might know, their subscriptions to certain databases come and go. Also, there are some Reynolds scholars who would class themselves as 'independent scholars', and they have no institutional access so they're completely unable to access these sources.
With this in mind, about three months ago, I decided to download PDFs of all of Reynolds's early writings with a view to turning them into a book, newly typeset in modern, readable fonts.
The result is the free ebook offered to the Reynolds community today titled The Early Writings of George William MacArthur Reynolds (1814–1879): Short Stories, Essays, Translations, and Poetry from The Monthly Magazine, the London Journal, and Reynolds's Miscellany.
The book, available both as a free PDF and also as a paperback priced at £15.99 (cost price), contains the following writings:
The Errors of the Christian Religion Exposed
Constantina; on the Importance of its Occupation by the French
The French Poets and Novelists
The Wandering Jew's Tale
The Literature of Hungary
The Baroness: A Novel
The Lovers: A Legend of Guernsey
The Progress of Civilization in Belgium
On the Democracy of the United States
The History of the Bastille
The Father: An Episode in the Life of a Nobleman
Mary Hamel
The Sculptor of Florence
The Appointment: A Tale
The Assassin
Margaret Catchpole
A Guillotine Scene in France
Translations of Victor Hugo's Works
G.W.M. Reynolds by Ramsey MacDonald
Many of the short stories such as 'Mary Hamel', 'The Sculptor of Florence', 'The Appointment' and 'The Assassin' were actually incorporated into some of Reynolds's later works such as Master Timothy's Bookcase (1842), so some readers may be familiar with them already.
Yet some essays never reappeared in later works—'The History of the Bastille', 'The Progress of Civilization in Belgium', and 'On the Democracy of the United States'. These will hopefully offer readers a glimpse into aspects of Reynolds's political and historical thought that have hitherto been neglected. Particularly noteworthy in this regard is Reynolds's early essay 'Constantina' in which he declares himself a supporter of French colonial policy. This is a far cry from the avowed anti-imperialism of his later writings in Reynolds's Weekly Newspaper.
Having recently managed to download all of Reynolds's editorials for The Teetotaller, Reynolds's Political Instructor and Reynolds's Weekly Newspaper, I am currently in my spare time transcribing them all and will eventually publish them as a book. If anyone would like to get involved in this project, do feel free to get in touch! (Basdeos@richmond.ac.uk)
Stephen Basdeo
Link to buy the paperback: https://www.lulu.com/en/gb/shop/george-william-macarthur-reynolds-and-stephen-basdeo/the-early-writings-of-george-william-macarthur-reynolds-18141879/paperback/product-ykv28j.html 8�I�